galleryManager is the simplest way to manage your artworks and contacts online. Accessible from any computer or mobile device, galleryManager brings the future of inventory and collections management to the art world today.
We are import experts. If you have an existing database—ArtSystems, Artbase, Access, Filemaker etc.—we can import it. Please contact us for an estimate.
About
Gallery Inventory and Collections Management
Who We Are
galleryManager was developed by exhibit-E, a unique design and technology firm that has taken a leadership role in providing websites for the art world. galleryManager is an online inventory management system for your gallery, accessible from any computer or mobile device with internet access. The system was designed to be intuitive and user-friendly. It is a highly secure online system that has been thoroughly Beta tested by ADAA Member galleries.
Manage Your Information Beautifully
Easy Access
galleryManager developed from the idea that we could reduce the headaches that we found many of our clients experienced with their old inventory management software. Designed to replace those systems, galleryManager is a Web-based solution for tracking everything from contacts and transactions to artwork, invoices, purchase orders and much more, and it is accessible online from any computer or mobile device with internet access.
On-the-Go
On Your iPad and iPhone
With galleries attending over half a dozen art fairs a year, on-the-go access to inventory is essential. That's why we created the galleryManager iPad and iPhone app. It's FREE for all galleryManager subscribers. This is an ideal tool for offline viewing and presenting select groups of artworks and information while on the go. It syncs automatically with your galleryManager account—no exporting or uploading files or jpegs.


A Natural Tool
Customized for Art World Users
The size and turnover of gallery staff demands simplicity of technology and quick and easy training. Galleries want a system that does not require taking courses to understand, and a mobile system that allows access to their most important assets when traveling. We designed galleryManager to meet the needs of the galleries—a fast, secure, and easy to use system customized for art world Users.
Always in Sync
Secure In the Cloud
Hurricane Sandy revealed the fragile nature of location-based inventory management systems. There were quite a few galleries that did not anticipate what a good soaking would do to their database. With waterlogged servers sitting in the gallery, and lost data, those galleries were out of commission. As an encrypted web-based application, galleryManager keeps your data safe and secure in the cloud. And with daily granular back-ups there's no need to worry.
Managing Your Contacts and Artwork
Art World Experts
We worked closely with a range of international galleries to design a better inventory management system. During the Beta phase we listened to our Users and added the best ideas into the product. Because of this we like to say galleryManager has been designed by the galleries—an essential tool for managing contacts, artworks, shipping, consignments, loans, offers, creating lists, documents and reports and more.
Easier Inventory Management
Intuitive & Easy
Check the ownership history or provenance of artworks. Keep in control of your most important assets and track 'who did what and when' in the system. Instantly update appraisals or insurance values. Know the cost of photographing, framing, hanging, restoration, and shipping. Securely access your inventory in real-time, online from anywhere in the world.
A Snapshot of galleryManager
- Includes FREE iPad and iPhone app for offline viewing
- Always in sync across all devices
- No per computer fees
- No software to install
- You're not locked to one computer or one device
- Online access from any computer or mobile device
- Unlimited storage and backups
- FREE on-going upgrades


- Eliminates the need for an in-house server
- Track 'who did what and when' in the system
- Convenient online training videos
- Your data is safe and secure in the cloud
- Highly secure with granular backups
- Encrypted servers
- We can import data from your old system
- Thoroughly Beta tested by ADAA Member galleries
Our Offices
Our offices are located in a 3000 square foot studio space in the landmark Starrett-Lehigh building in the heart of the Chelsea art district in New York. Our highly motivated team takes pride in providing the highest level of service to our clients. Don't hesitate to contact us to see how we can help you.
support@gallerymanager.com or call 212-625-9910.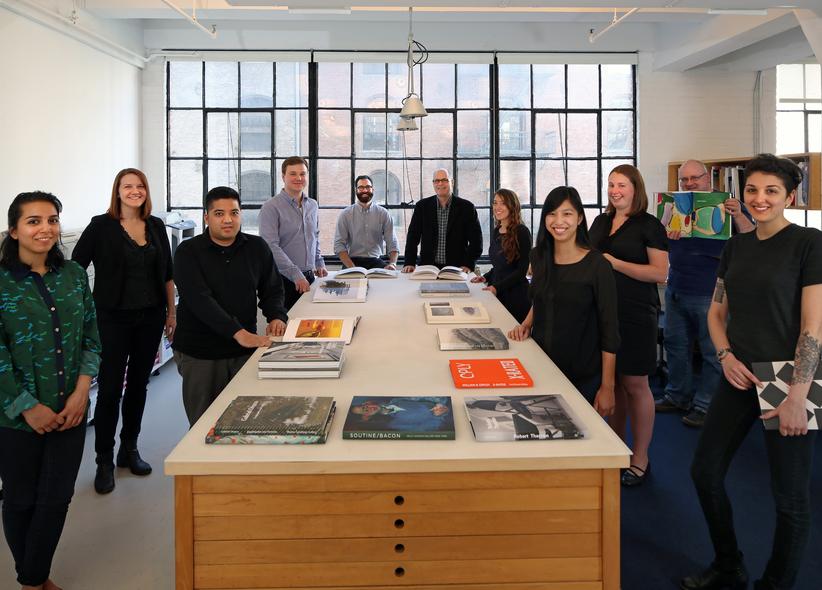 Our Commitment
Support & Service
Our technical support team is always available via email at support@exhibit-e.com and over the phone during normal business hours, 212-625-9910.
Introducing NEW Features in 2016
Always Improving
In the Fall of 2016 we will be announcing the release of galleryManager 2.0. With Version 2.0 galleryManager will be even better—more responsive, more intuitive, and more flexible. With over one hundred feature enhancements, a complete design overhaul, and an all-new platform that allows for seamless integration with exhibit-E websites and mobile apps.
If you are an existing customer your upgrade to 2.0 will be free.
For more information or to arrange a private demonstration, please contact us at demo@gallerymanager.com
No per computer fees
Always in sync across all devices
No software to install
Free iPad app for offline viewing
Free on-going upgrades
Unlimited storage and backups
Choose a Plan
Features
Learn more about GalleryManager
iPad and iPhone App
Web-Based
As a web-based system, galleryManager can be accessed anywhere you have an internet connection.
Reporting
Generate reports from a dynamic list of options. Find and export artworks by location, status, availability, type, tags, etc.
View More
Create Sets
galleryManager gives you the ability to devise sets for exporting multiple artworks to a loan, consignment, sale, or checklist.
View More
Editions
With galleryManager you can make editions with artist proofs.
View More
Tags
Quickly find and group artworks or contacts by tagging them with keyword descriptions.
View More
Sales and Invoices
Create an automated invoice from the sale of one or multiple artworks from your inventory.
View More
Consignments
Stay on top of all incoming and outgoing consignments.
View More
Loans
Loan one artwork or multiple artworks at the same time. Each loan can be tracked from your artwork or contact list.
View More
Mobile Friendly
galleryManager is accessible from any iPhone or iPad with an internet connection.
Contacts
Organize your contacts' information and keep abreast of all artwork transactions related to your collector list.
View More
Artworks and Artists
Track all of your artwork details, purchases, consignments, loans and ownership history.
View More
Works on Mac or PC
galleryManager is thoroughly compatible with Mac or PC and does not require any software installations or upgrades.
Pricing
Simplified Pricing. No Surprises. First 30-Days Free.
Basic
One user account

One user account means that all authorized staff use the same log-in credentials.
Pro
Up to 5 user accounts

With multiple user accounts, set access levels and system tracking per user.
Unlimited
As many user accounts as you need

With unlimited user accounts, set access levels and system tracking per user.
All Plans Include
First 30-Days FREE
Full access to the galleryManager application
FREE iPad and iPhone app for offline viewing—available in the iTunes store
FREE unlimited email tech support, includes access to support—the knowledge base of our team—24 hour response time.
A basic document template created with your gallery letterhead for tearsheets, invoices, offers, consign out, loan out, shipping, artwork report and list documents.
Access to all training videos and support
Unlimited content storage
Daily data backups
Testimonials
"We have grown with galleryManager and are always impressed by the platform's tools for organizing artworks and transactions. galleryManager continues to respond to the needs of the industry, and our gallery's specific needs for robust archival and cataloging tools with an easy and beautiful interface."
"galleryManager is an exceptionally user-friendly platform for organizing our inventory. It never sacrifices intuitive navigation for its depth of customization, and the galleryManager team has always been responsive and communicative to our requests. As our needs evolve and grow, so does that of the software."
"galleryManager has been incredibly easy for all of us to use here at the gallery. I am extremely happy we switched from Artsystems after years of difficulty understanding their program. With our new London gallery opening this year, galleryManager will be a great asset for all of us at Ariadne."
"We've been using galleryManager as a web app and recently as an iPad and iPhone app for the last two years after a colossal crash of our database in Filemaker Pro. galleryManager's allowance for multiple users from any computer simultaneously has been indispensable to this studio. The clean and clear design is only surpassed by its ease of use. galleryManager is a must have database app for any artist or gallery serious about collections management."
"galleryManager has been a life-saver for us! When Garvey|Simon first formed, I was running back and forth between running an art advisory business in New York and a pop-up gallery in the Midwest; galleryManager allowed us to seamlessly stay connected with our contacts, inventory, and sales in all locations. The web-based software has made a huge difference— and it is an incredible value compared to the other gallery management software programs available. Our exhibit-E website and galleryManager are two online tools we wouldn't want to be without."
"Your system puts all others to shame."
FAQs
Questions About galleryManager
Is the galleryManager iPad and iPhone app only available to active galleryManager subscribers?
The galleryManager iPad/iPhone app is only available for active galleryManager subscribers. It's an ideal tool for presenting select groups of artwork and information while on the go. It syncs automatically with your galleryManager account—no exporting or uploading files or jpegs—and works offline. The iPad and iPhone app is FREE for all subscribers and can be used on as many devices as you'd like.
How does the 30-Day Free offer work?
When you sign up for galleryManager and provide your billing information, your credit card will not be charged for 30 days. Yes, we are giving you 30 days free, compliments of galleryManager! After 30 days your payment will be processed. You can cancel anytime prior to the 30 day period.
How do I sign up?
The first step is to select your plan from the Pricing section above by clicking on the "Choose this Plan" buttons below each option. You'll then be prompted to enter your billing information. We need this information up front to set up your account, but your card will not be charged for the first thirty days, and you're free to cancel the account at any time before then.
Is my data safe?
The security and privacy of your data, payment, and information is very important to us. We pride ourselves on conforming to industry security standards and the latest best practices. Credit card information is securely encrypted and stored by Braintree, a trusted, Level 1 PCI DSS compliant payment gateway and payment processing provider.
Can galleryManager import my existing database into my new galleryManager account?
We are import experts! If you have an existing database we can import it into your galleryManager account. We've imported databases from ArtSystems, Artbase, Access, Filemaker, and more. Please contact galleryManager support for an estimate at support@gallerymanager.com.
How do I customize my documents?
Once you've finished setting up your galleryManager account, please send a copy of your gallery letterhead in the form of a full-page PDF to support@gallerymanager.com, along with your account email or account name. After we've added it to your account, any document you create through the system, including tearsheets, invoices, and artwork lists, will be personalized with your gallery's letterhead by default!
Does galleryManager support multiple currencies?
Galleries all around the world use galleryManager, so the system absolutely supports multiple currencies, including EUR, USD, JPY, SEK, GBP, CHF, HKD, BRL, AED, CNY, PHP, and others. We can also add additional currencies upon request--just send an email to the Support team!
How does galleryManager calculate exchange rates?
galleryManager pulls its exchange rates from a trusted third-party platform that is used by thousands of commerce-based platforms, including Shopify, Kickstarter, and Braintree. The current rates are updated hourly and the "Historical" rates are drawn from EOD (end of day) values for that specific date.
Can I track individual user activity?
User activity tracking is available for subscribers with Pro- and Ulimited-level plans. Once you have your multiple user accounts set up, you will be able to see which user has performed which transaction.
Can I set different access levels for my staff?
Subscribers with Pro- or Unlimited-level plans can set different access levels for each of their users. So, for example, if you would like to prevent one user from seeing financial information, you can block that data from appearing for them. For more information, please visit our Videos and Support page.
Which payment types and currency do you accept?
All prices are in USD, and we accept major credit cards including Visa, Mastercard, American Express, and Discover.
What happens when I downgrade plans?
Accounts can be downgraded or cancelled at any time, under the app's Settings tab. However, as we do not offer refunds for charges that have already been incurred, we advise starting with the plan that meets your needs today and upgrading later as your needs change.
How long are your contracts?
galleryManager plans are month-to-month. We make it simple to start or stop your service at any time.
Is there a discount for yearly service?
No, we do not offer discounts on up-front long-term commitments. We only accept monthly payments.
Can galleryManager integrate with my website?
We are currently working to integrate galleryManager into our exhibit-E website platform, with the goal of having this ready in 2016. For more information about our websites, visit exhibit-e.com. We do not currently have plans to integrate with third-party sites.
Can I download galleryManager?
galleryManager is an online Web application and cannot be downloaded. However, users can export virtually all of their Artworks and Contacts data into Excel spreadsheets at any time with a few clicks if they need to using the Search & Sets tab within the app.
Are subscriptions to galleryManager prorated?
Subscriptions are paid upfront for the month. If you cancel your subscription, you are just cancelling your automatic renewal, and you'll still have access until your month is up.
Can I remove and add users?
Yes, subscribers can easily add additional users themselves under the Settings tab in the app. If you add more users than your current plan allows your plan will be upgraded.
How do I cancel service?
Canceling galleryManager is an easy and no-questions-asked process. Just log into your account, go to Settings, and remove your billing information from the Billing tab. Your subscription will automatically expire at the end of the current billing period.
Have any questions?
Our support team can answer any questions you might have about galleryManager. Please contact us anytime by emailing us at support@galleryManager.com or calling at 212-625-9910. We would love to hear from you!
Our support team can answer any questions you might have about galleryManager.
View Support Page
Contact
We would love to hear from you